If you took a look at some of the most high performance paintball guns in the market today, you will notice that they support both CO2 and compressed air. While C02 guns are pretty good, we highly recommend that you go for a compressed air paintball gun if you can afford.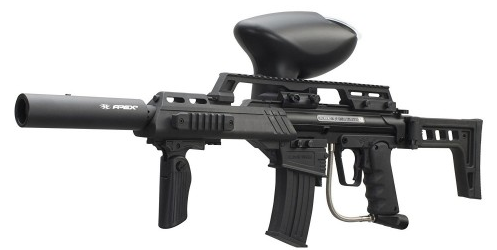 This is because compressed air results in a more consistent performance than CO2 tanks. The problem with CO2 tanks is that they can act a little funny when the weather goes through too much heat or cold. It is not uncommon for paintball players to have a tank showing 80% capacity and then suddenly seeing that tank capacity drop to just 40%, because of temperature changes when they start running out in the open field, under the hot sun.
Compressed air tanks on the other hand are not as affected by weather as CO2 tanks. While any tank holding gas or air will be subject to weather changes, you can be assured that a compressed air tank will give you the best performance you can expect from all tanks available for paintball.
If you took a look at the best paintball gun like the Dye M2 or the Empire Axe, the manufacturers strongly recommend that you only use compressed air tanks and not CO2 tanks, if you want the most out of the gun.
There have also been many studies that clearly seem to indicate that compressed air tanks result in paintballs being fired with more velocity, thereby providing a high range, especially when directly compared to CO2 tanks.
Whichever tank you choose, it is highly recommended that you get a gauge to show you how much air you have left in the tank. The last thing you want is run out of gas or even run low when playing paintball, especially if you are in the middle of a heated game.